Posted:
May 26th, 2010 |
Author:
asshawk
This is just sofa king we todd did!
Sure the iPad is selling like hot cakes and is a pretty awesome device, but you don't need to carry it around like it was a joey and you were some type of digital hipster marsupial.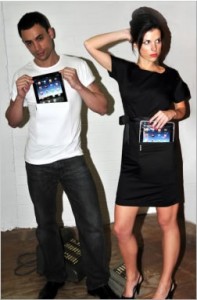 The iPad is similar to the size of a notebook or magazine, and you know what? No clothing company went out of their way to make a stupid-ass $45 T-shirt with a single big pocket on the front to carry it, so why would you make one now? Plus the iPad has some weight to it, so stashing it in your front pocket is only going to sag your T and make you look like you have a rectangular hard on poking out of your pants!
And girls, seriously? If you wear that hideous dress and actually put an iPad in it you should just put a helmet on to match.
Just don't make stupid Sh!t!
Check out the iClothing site here – and NO! I'm not going to be your friend, fan or follow your stupid-ass on Twitter: