Posted:
April 18th, 2011 |
Author:
asshawk
The infamous Sute Dawg of Denver, CO has released his first full album. You can think of it as a greatest hits anthology of Sute Dawg's best songs. Actually, all of his songs are the best, so it is comprised of all songs he has every made.
The album: Last Slice, by Sute Dawg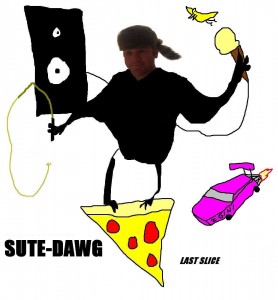 You can purchase the album on iTunes or CD Baby now for only a measly $9.99.
(that's only like a beer and a slice of pizza)
http://itunes.apple.com/us/artist/sute-dawg/id432994943
http://www.cdbaby.com/cd/sutedawg
It will be available on Amazon soon!
Congrats Abe!